Our Services​
We provide the best gold and silver loan at the lowest interest rates to helping fulfil a diverse variety of your needs.
Sri Venkateswara Finance (SVF) is a Rajahmundry's No. 1 most trusted leading gold loan company at Rajahmundry in Andhra Pradesh. Also it has three branches i.e., at Devi Chowk, Prakash Nagar, Main Road areas from Rajamahendravaram.
A gold loan or a loan against gold and silver is a secured loan which the customers can avail from Sri Venkateswara Finance. And it is the easiest way to fulfil your financial needs and proves to be a sensible alternative to availing loans from banking channels.
It is one of the easiest ways to satisfy customer's financial needs and proves to be a judicious option.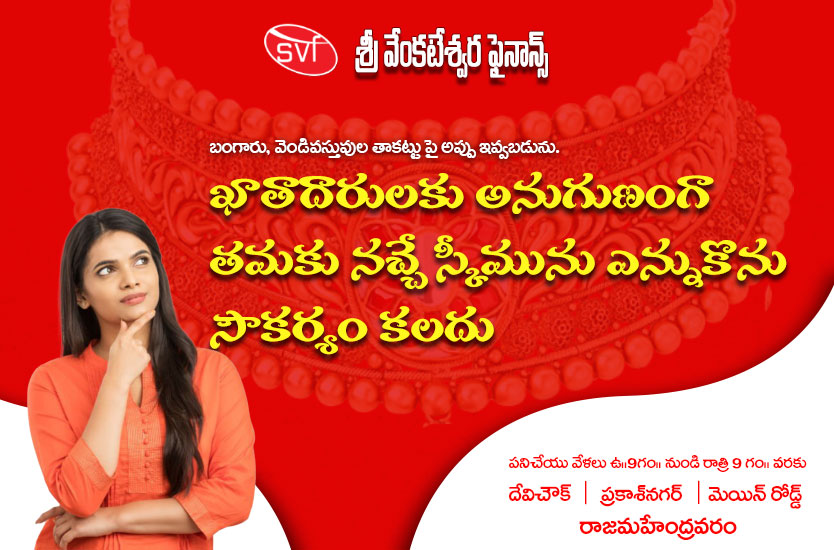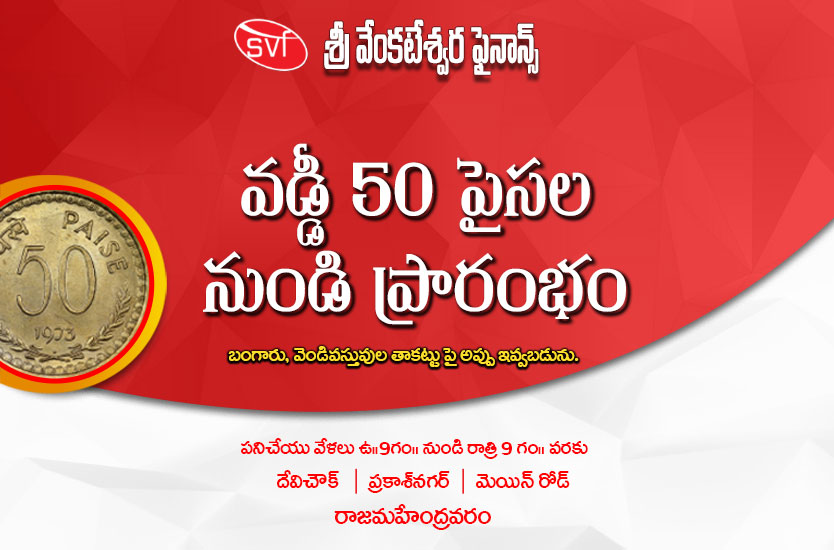 This company is giving gold loans even for 50 paisa for the benefit of poor and middle class people.
When the term 'emergency' signifies situations that occur out of nowhere, and they often require instant solutions. We want you to think of us. While opting for a gold loan by SVF, a customer is ensured of complete relief.
And many folks in search of gold/silver loan providers put their trust in svf as they have robust gold loan portfolio with extremeley low interest rates due to which it has earned very good reviews across Rajahmundry city. when you search for 'gold loan near me' there in further company than SVF to get instant loan for silver/Gold.
Here are some highlights on what makes loan against Gold/Silver different:
With quick loan disbursals and attractive rates of interests
Easy eligibility parameters
Instant credit of your loan.
High loan value.
Low interest rates.
Repayment flexibility.
No end-use restriction.
Interest rate starts from 50 paise
Debit card, credit card and online facility is available.
There is facility of free transfer of debt on gold items held by other institutions.
We provides 90% of the actual gold value with extremely low-interest rates and conditions apply.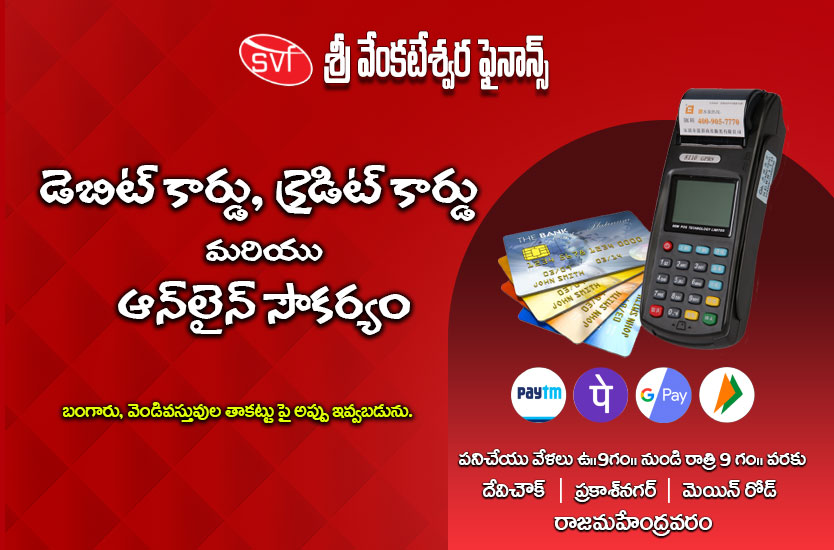 Eligibility to get the instant loan on Gold/Silver:
There are other parameters that determine the sanctioned gold loan amount. Meeting the lender-specific eligibility criteria is important to qualify for a gold loan at an affordable interest rate. However, these parameters are easy to meet. To avail a loan against gold ornaments, borrowers only need to fulfill the following criteria:
Age should be above 18 years.
Applicants should have an adequate amount of gold.
ID card i.e., Aadhar Card, Pan Card.
Proper residence address.
Simple enough!